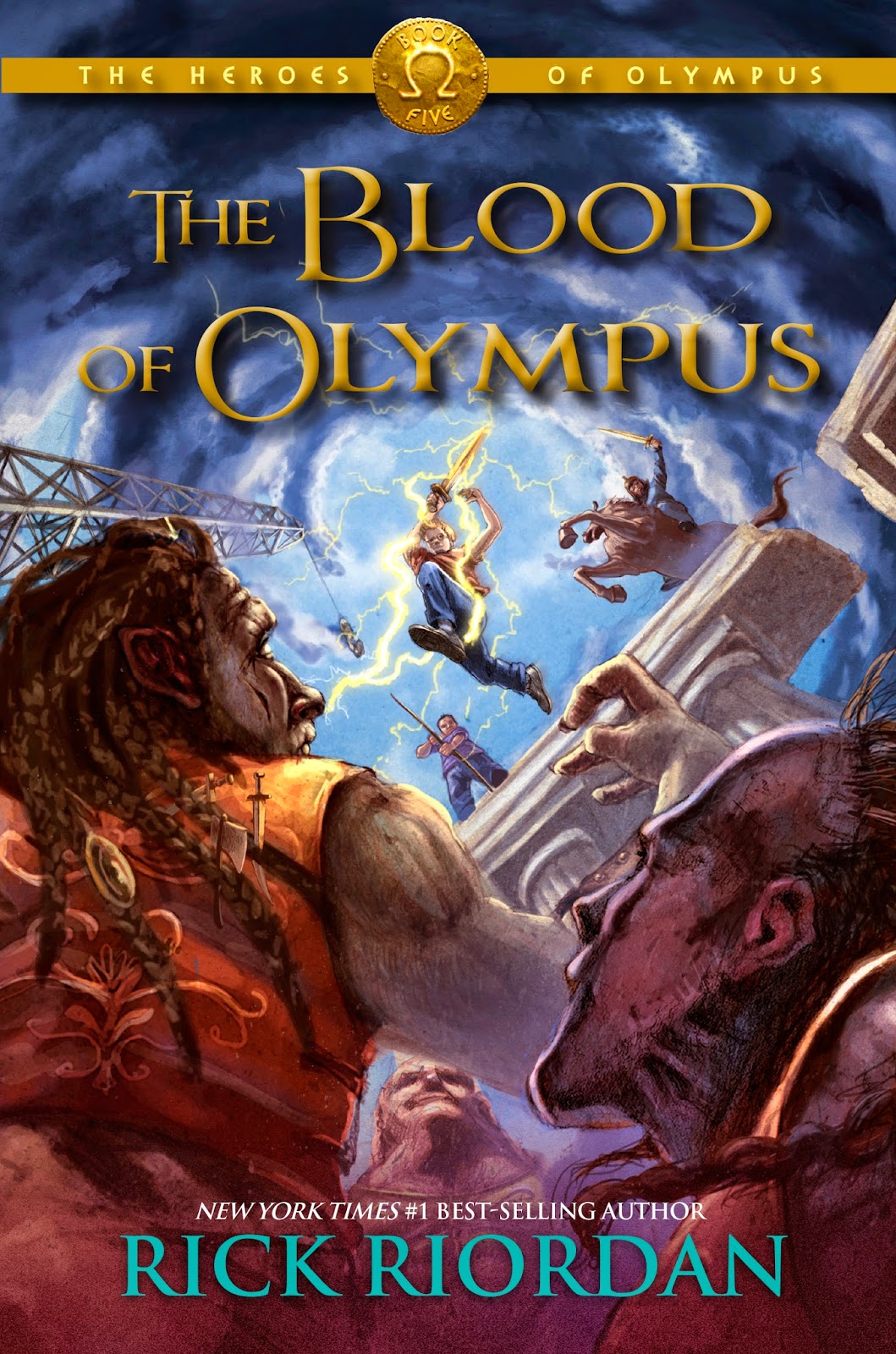 Title
: The Blood of Olympus (Heroes of Olympus #5)
Author
: Rick Riordan
Publication
: October 7, 2014 by Disney-Hyperion
Rating:
3/5
Summary from Goodreads:

Though the Greek and Roman crewmembers of the Argo II have made progress in their many quests, they still seem no closer to defeating the earth mother, Gaea. Her giants have risen—all of them—and they're stronger than ever. They must be stopped before the Feast of Spes, when Gaea plans to have two demigods sacrificed in Athens. She needs their blood—the blood of Olympus—in order to wake.

The demigods are having more frequent visions of a terrible battle at Camp Half-Blood. The Roman legion from Camp Jupiter, led by Octavian, is almost within striking distance. Though it is tempting to take the Athena Parthenos to Athens to use as a secret weapon, the friends know that the huge statue belongs back on Long Island, where it "might" be able to stop a war between the two camps.

The Athena Parthenos will go west; the Argo II will go east. The gods, still suffering from multiple personality disorder, are useless. How can a handful of young demigods hope to persevere against Gaea's army of powerful giants? As dangerous as it is to head to Athens, they have no other option. They have sacrificed too much already. And if Gaea wakes, it is game over.
Overall
It was okay. Definitely not what I was expecting as the final book, especially when I think this books closes the whole Greek/Roman gods universe. It was a good book, but I definitely was expecting more. Compared to the final book of the PJO series, this one lacked.
In the beginning felt like I had missed something. When reading the beginning of
The Blood of Olympus
(BOO), all the characters were referring to events that had already happened. I understand that there was supposed to be a time-skip between this book and
The House of Hades
, but I was just very confused the first couple of pages. Since Riordan is known for posting short novellas (Percy & Kane crossovers for example), I didn't know if I had missed one referring to the events that had happened in the middle.
But once I got a hang of the timeline, I started going through the book pretty quickly, laughing at some of the jokes, sighing because of other jokes. It's the problem I have always faced when reading any of Riordan's books, boy humor, but that's probably because it's aimed for a middle school/beginning high school age group (which is a totally different problem).
Some parts I had to reread because I couldn't believe it, other parts I did find myself skimming and forcing myself to go back to actually read it. It didn't get me in the feels like books usually though, especially in the relationship department.
But overall, it was an okay book. If you're debating whether or not to finish the series, I would say read it. Learn how Riordan closes out the story, maybe it'll give you some closure. But it's definitely not the-stop-everything-you're-doing-and-read-it book.
The Characters
I love a good character development. And some characters had them, some did not.
As old followers will remember, I had a big dislike for Piper. But in the last two books, she's gone through a really great improvement. She's grown more secure with her own person, and she is a constant reminder that children of Aphrodite are fighters to. I felt like this book, Piper was more concerned about her relationship with her friends rather than her relationship to Jason. Which is good, because she's finally secure and comfortable being with Jason.
Jason. Jason Grace. I don't know what to think of him. I've always felt that he could be a better character. Don't get me wrong, I like Jason, I do. But if I had to pick between Jason and Percy, I would pick Percy. Jason just spends too much time doubting himself/what he wants to do and I never find him being very assertive. I mean this guy was Praetor! He defeated a Titan! But now I feel like he's eh. And he's always getting knocked out! I know it's a running joke in the series, but really? If he's that great of a fighter, why is he always "losing"? But I did panic a little when they where in Odysseus' home. Also why glasses? No. I do not approve of the glasses.
I have always like Reyna and I'm super glad we got to see a lot more of her in this book. We finally get a backstory! Basically be excited for some Reyna awesomeness.
Nico. Don't get me started with this kid. Nico as a character I really like. But the "development" Riordan gave him in the last book I didn't really enjoy. When it was revealed that Nico was gay, I was kind of shocked. Not at the fact that he was gay, because I honestly don't care whether a character is lgbtqa, but like many other readers, I just didn't see it coming. As in there was nothing in the other books to ever suggest that Nico wasn't straight. Part of me feels like there was a fan demand for lgbtqa characters lead to this. Which is why I kind of have a problem with his ending, especially the scene where he and Annabeth high-five. I felt that was really out of character for him. But besides that, I thought Nico's emotional development was great. I think it did him some good to be with Reyna.
Percy/Annabeth. THEY HAD NO POINT OF VIEW! Percy is one of my favorite characters and I was pretty upset that he didn't have a point of view. I know a large portion of HOH was dedicated to him and Annabeth, which is why he probably didn't have a POV. But still, I think there could have been certain scenes that would have been better narrated by him. And I feel like his character wasn't totally explored, or explored as deeply. There's this talk of how powerfully/fearful Percy could be, but you never really see that side of him.
The Ending
As I have said more than once, severely lacking. For being such an important prophecy, there wasn't much of a celebration/gratitude on the gods part this time. And it was all too nicely tied up. This character went there, that character did that. It gave everyone a HEA (happily ever after), which is kind of disappointing. I was actually reminded that this type of endings are usually aimed for readers of a younger age, because this book is actually targeted towards a middle school age. I mean, I started reading PJO when I was in Middle School, and I just forget that books don't grow along with me.
Also not enough deaths. There wasn't a big focus on the actual battle or darkness of the situation. But again, not aimed towards high school/my age.
It's the type of ending that lets you be content, but also allows for the author to have enough material for possible short stories/novellas in the future.
What did you think of the book? Do you agree with some of my views or do you totally disagree? Let me know in the comments!